Email marketing and mailing lists are still very relevant today, even in today's "socially oriented" world. Mailing lists as an important marketing tool are recommended by many experts as an effective means of advertising or promotion of a product or resource. So, today we decided to disclose this topic in detail. Here is our review of the world's leading mailing list building service - MailChimp. We are pretty sure that even the email marketing experts will be astonised by opportunities that MailChimp offers. This service has won the "Oscar for web sites" of 2006 - the Webby Award in the category "Best IT or Hardware Web-site".
Key Features
We want to notice that MailChimp is a kind of "Swiss Army Knife" of various e-mail marketing and mailing services. Therefore, we are even not even trying to cover all the endless possibilities of the service. We will only try to highlight only the most important of its features, and partly to emphasize the unique features that make it the world's leading marketing tool for working with e-mail subscriptions.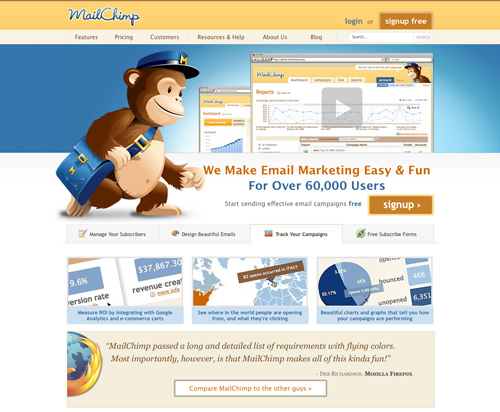 The first thing that catches your eye that it is a convenient solution ready for integration of the mail marketing service in the plenty of platforms or SaaS-popular CMS. So the power of MailChimp can already be brought into Salesforce.com, or engines like WordPress, Drupal, etc. Full integration capabilities with Facebook iare also implemented
, when the control panel MailChimp subscription conveniently built into the pages of this popular social network. In addition, open and well documented API for interaction with this system, the developers say that the hundreds of successful integrations, when large companies on their own MailChimp integrated into your corporate CRM and CMS. Moreover implemented deep integration with popular third-party tools, such as Google Analytics, Google Docs, Zoho Docs, etc. It is interesting to look the possibility of integration with the leading mailing services to create a "selling pages" - UnBounce, - allowing you to create a complete cycle of the advertising and sale of any products through the mail.