Powerpoint Control is now named Presentation Control due to trademark claim from Microsoft.
Presentation Control - is a tiny yet powerful Android application that allows you to easily remotely control Powerpoint, OpenOffice, Adobe PDF presentations on a PC from Android Phone or Tablet. Communication is done via WiFi network.
If the program does not work, plase make sure that Firewall is not bocking UDP port 12040.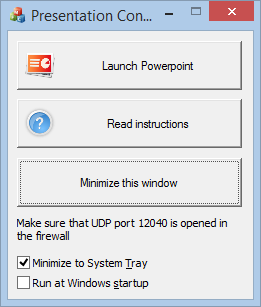 Download and run PC Application using the link here: PresentationControl.exe
Download Android application via this Link to Google Play Market if you didn't already

This tiny Desktop application allows to shutdown your PC after 30 or 60 minutes. This PC Shutdown Timer is useful when you are watching a movie and want to shutown your PC before you go asleep. The program contains big buttons, so you can never miss them with a cursor when watching your PC screen from a distance.
Just download the executable file, copy it to Desktop and run when needed. Works under Windows XP, Windows Vista, Windows 7, Windows 8, both 32 and 64 bit
Latest virus check result states that executable is free of viruses: check here